The High-res stepper motor Stand-alone option has no controller. This option is for customers that may already have an existing Mini v2 controller, or other brand controller like a ROBO focus unit and do not want to purchase another controller with the motor. Your controller will need to be able to plug in to the DB9 jack and run a unipolar stepper motor to operate it.
All MoonLite's High Resolution stepper motor options use a premium, low backlash Hurst stepper motor. The Standard High-res stepper motor uses a Hurst motor gear box that provides very fine (.00008" 1/2 step mode, or .00016" full step mode) resolution and accurate position repeatability required for today's high end imaging systems. The Ultra High-res stepper motor version uses a Hurst stepper motor with a 4 times high gear box ratio to handle very fast F-ratio scopes. All Moonlite Crayford focuser models are offered with a motor option. We no longer make any Dual rate reduction unit-based focusers with a fine knob. All Crayford focusers have a regular rate manual knob on the other side of the motor that can be used manually if needed by loosening the slip clutch on the motor.
Slip clutch drive for both manual and motor operation.
Low backlash/ high repeatable positioning hurst stepper motor.
Resolution = .00008" per micro half step, or .00016" full step mode
Robo focus compatible DB9 connector pin out.
Weight 12 oz. mini, 18 ox DRO
Manual buttons for up/down and speed knob on miniV2 controller
Full PC ASCOM compliant SW ability.
Temperature compensation ability with ASCOM based software that supports it
3 additional non ASCOM programs included.
USB cable, and DB9 9pin motor cable included
Remote temp probe included
Controllers operate unipolor type stepper motors
Temp can be calibrated for offset
Non volatile memory for current position after power loss.
Temp jack 1/8" stereo, tip Vout,Ring Vcc, Sleeve ground
DC power jack 12volts 2.1mm X5.5mm barrel connector Center = Pos, Outside = Negative
DC power range 10 volts to 16 volt range
Red LED power indicator on miniV2, Will blink when focuser move command are given.
2 speed rate on manual buttons (MoonLite Display Controller only).
Full DRO step count position display (MoonLite Display Controller only).
Single port on Mini V2 controller, Dual ports on DRO dual port display controller
LCD display tested to operate at -10 degrees F
$190.00 stepper motor stand alone.
$440 with MoonLite Mini controller.
$685 with MoonLite 2-speed DRO Display controller.
2" format rotator is $440
2.5" format rotator is $495
Rotators require a DRO dual port controller
---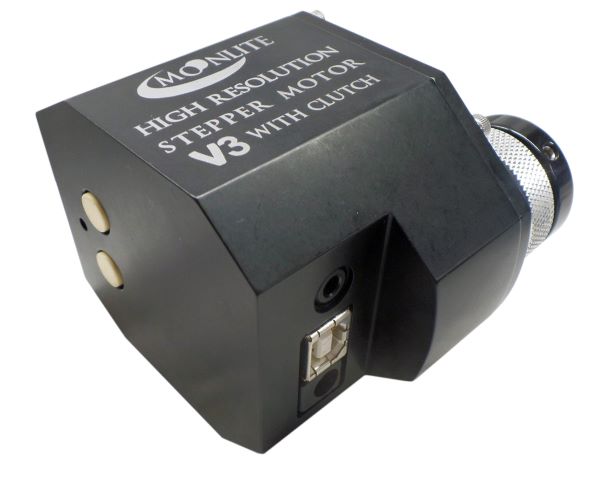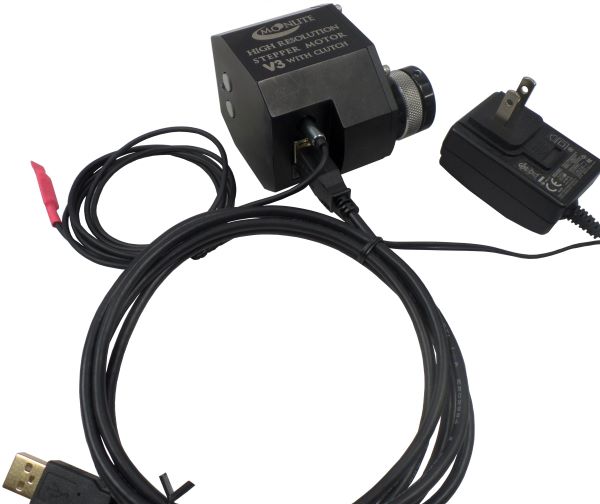 High res stepper motor V3 ( integrated controller) works exactly like the mini V2 controller. It runs all of the same SW and drivers. We just integrated the mini V2 controller board in to the motor case ( case is 1/4" wider now) and called it a V3 motor. It provides a cleaner installation with less cables. The V3 also has the manual buttons on the side in case customers want to move the motor position at the scope location instead back at the PC. It also has the USB, 12v DC , and remote temp probe jack right on the motor case. All cables and power supply are included.
---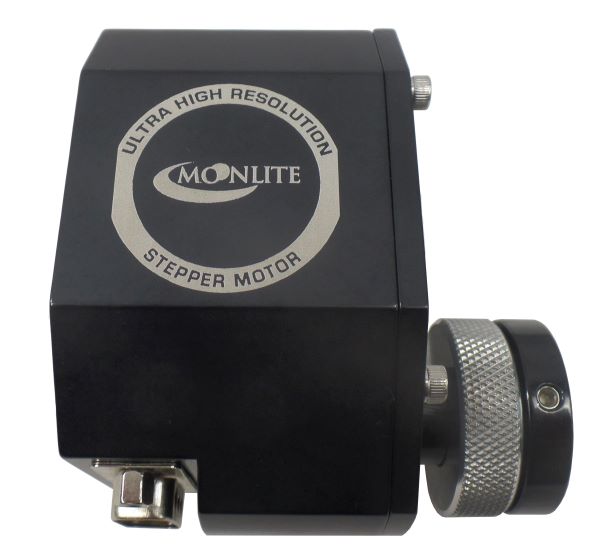 The Ultra high-res stepper motor Gear box option ($100 more), gives the stepper motor 4 times the resolution of our regular high-res stepper motors. It uses a Hurst stepper motor with a very high gear box ratio. Full step size for the Ultra high-res stepper motor is .00004" per step. The regular high-res stepper motor runs as .00016" per step in Full step mode. The Ultra version of motors are very well suited for fast F-ratio scopes.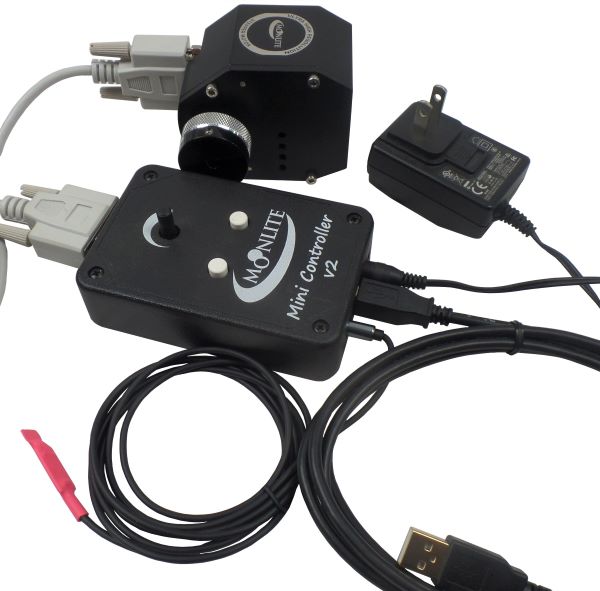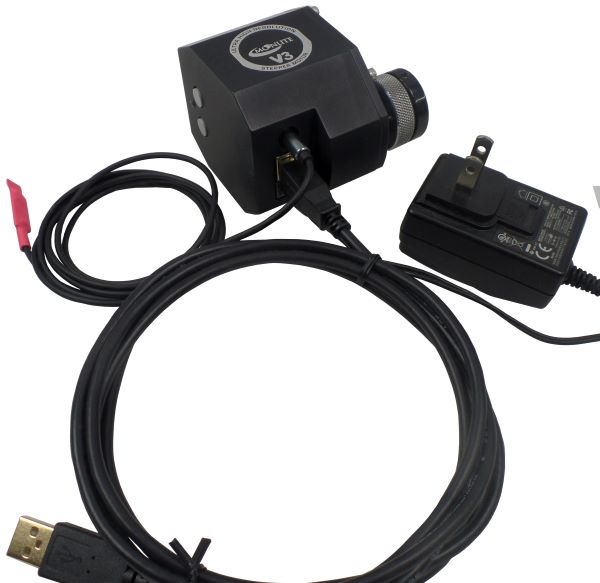 ---
Battery operated Hand Controller: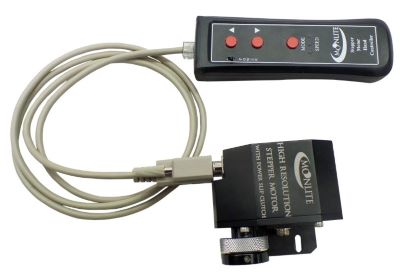 The Battery operated hand controller is intended for manual operation, when no PC operation is desired or no traditional 12 volt power is available. It has a built in Red LED flashlight and 3 speed settings. Very handy for visual use.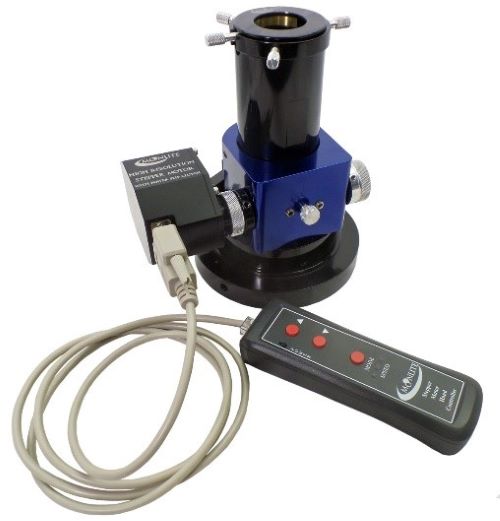 ---
Slip-Clutch: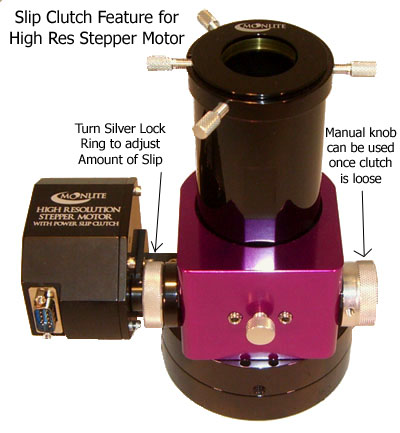 The amount of slip can be adjusted on the slip clutch by adjusting the tightness of the slip clutch ring. For manual knob operation of the focuser, turn the silver knurled ring loose. For motor operation of the focuser, tighten the silver knurled ring.
To adjust the clutch tension, grab the manual knob still with your right hand and grab the silver clutch ring with your left hand. Then twist tight like a lid on a jar allowing the clutch ring to tighten / loosen the clutch. To test the clutch-- try turning the manual knob, it should be very stiff or not turn at all if the clutch is tight on the motor. If the manual knob turns easily, then the clutch is set loose.
Note: No damage will be done if the focuser motor continues to run past the mechanical stops of the drawtubes travel. Even if the clutch is tight, it will simply slip when the travel runs out.
---
Tutorials:
Installing a DC or High res Stepper Motor on a CR model focuser
Downloads:
MoonLite offers both Non ASCOM Software programs and a universal ASCOM driver to operate all MoonLite focusers and controllers.
Please see Download page for Software
https://focuser.com/downloads.php