MoonLite Truss Connector Systems
The versatility of the MoonLite Truss Connector System allows for traditional, as well as non-traditional truss tube designs. Angles are easily handled by using our ball and socket connectors. We also offer captive style connectors. You can mix and match components to suit your design. Any way you build it, setup and take down is quick and repeatable. The MoonLite Truss Connector System is utilized on StarMaster EL Series of telescopes.

All connector components are machined from either strong, light-weight Delrin or black anodized 6061 aluminum, and are a perfect match for MoonLite's black anodized truss tubes.
On the left is Ron's 16" f/4.5 Dob and on the right is Al's 12 1/2" f/6 Split Ring. Both scopes utilize the ball and socket style connectors to compensate for the compound angles.
---
1" Connectors and poles work very well for scopes up to 20" F5, for larger scopes consider 1 1/4" poles and connectors.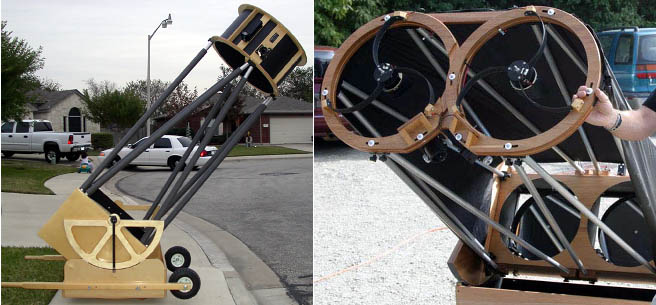 A popular configuration for large scopes, is to use four 1" double ball and sockets on the top cage and 8 of the new 1" aluminum captive connectors on the bottom rocker box. This provides a very rigid system that is easy to take apart and set up with repeatable collimation results.
---
Truss connector blocks come in 3 configurations:

Single Ball and Socket with 1 tube insert
Double Ball and Socket with 2 tube inserts
Aluminum Captive Connector for 1" O.D. poles

1 inch inserts:
Tube inserts are permanetly attached in the poles and although the 1 inch inserts are machined to fit perfectly in our poles, they can be used on any 1" O.D. poles with a .050" wall thickness.

1 1/4 inch inserts:
Our 1 1/4 inch inserts are machined to fit our 1 1/4" OD black anodized poles. These poles have a .050 inch wall thickness.

Captive Connectors:
Our Aluminum Captive Connectors will work with any truss poles with a 1 inch O.D.



---
For the ball and socket design, we provide inserts that must be attached after your poles are cut to length. We recommend mechanically fastening the inserts with a small bolt. Simply drill, tap and fasten.

Remember the golden rule: "Measure twice, cut once."
---
There are 3 ways to attach the truss connector blocks to your telescope:

Simply attach with a #8 wood screw
Tap the existing hole with a 10-32 tap and bolt from the opposite side
Drill out the existing mounting holes and fasten with a nut and bolt
---
We pre drill two sets of mounting holes in the ball and socket style blocks allowing them to be either edge or surface mounted.

Double Block, Edge Mount

Double Block, Surface Mount

Single Block, Inside

Single Block, Outside

Double Block, Inside
---
What's the best configuration?
| | |
| --- | --- |
| | Well, that depends. If you do not want to calculate any of the angles involved with truss tube placement, then the Ball and Socket blocks are for you. (They certainly were for us!) If angles don't scare you, then perhaps you would prefer our Aluminum Captive Connectors on your lower OTA. Either way you mix and match them, a complete 8 truss system can be ordered for around $300.00, and that includes our beautiful anodized poles!! |
Want to see how quick and easy it is to assemble a scope equiped with MoonLite's ball and socket connectors?
| | | | | |
| --- | --- | --- | --- | --- |
| | | | Click on the thumbnail. | |
---
MoonLite Connector Block Prices:
Ball and Socket for MoonLite 1" poles, or equivalent:


TC-100S: Single Ball and Socket Block with 1, 1" tube insert

$13.50

TC-100D: Double Ball and Socket Block with 2, 1" tube inserts

$25.00
Ball and Socket for MoonLite's 1 1/4" poles, or equivalent:


TC-125S: Single Ball and Socket Block with 1, 1 1/4" tube insert

$14.50

TC-125D: Double Ball and Socket Block with 2, 1 1/4" tube inserts

$27.00
Aluminum Captive Connectors:


TC-100A: Aluminum Captive Connector for 1" OD tubes

$18.00
---
| | | | |
| --- | --- | --- | --- |
| 1" OD $18.00 ea. | | 1 1/4" OD $22.00 ea. | |
---
Detailed Specifications:
Single Ball and Socket Connectors, 1.8 oz. (L=1.9" W=1.25" H=.95")

Double Ball and Socket Connectors, 2.8 oz. (L=2.9" W=1.25" H=.95")

Ball and socket size is 3/4"

MoonLite poles are 1" or 1 1/4" OD with a .050" wall